Juvenile Race and Justice Book Archive
Item request has been placed!
×
Item request cannot be made.
×
Processing Request
Rez Dogs by Joseph Brucha
Twelve-year-old Malian lives with her grandparents on a Wabanaki reservation during the COVID-19 pandemic. She knows how to keep her family safe. And when Malsum, one of the dogs living on the rez, shows up at their door, Malian's family knows that he will protect them too.
---
Isabel and Her Colores go to School by Alexandra Alessandri
English just feels wrong to Isabel. She prefers her native Spanish. As she prepares for a new school, she knows she's going to have to learn. Her first day is uncomfortable, until she employs her crayons and discovers there's more than one way to communicate with new friends.
hoopla -- E-Book
---
Black Boy Joy edited by Kwame Mbalia
From seventeen acclaimed Black male and nonbinary authors comes a vibrant collection of stories, comics, and poems about the power of joy and the wonders of Black boyhood.
---
Your Life Matters by Chris Singleton
Confronted with daily racism, Black children are encouraged and supported by artists, athletes, writers, performers, and leaders who tell them that their lives matter. Includes brief biographies of the famous people featured in the illustrations.
---
The Cot in the Living Room by Hilda Eunice Burgos 
Night after night, a young girl watches her mami set up a cot in the living room for guests in their Washington Heights apartment. She resents that they get the entire living room with a view of the George Washington Bridge. Until one night, no one comes, and it's finally her chance! But as it turns out, sleeping in the cot in the living room isn't all she thought it would be.
---
Amy Wu and the Perfect Bao by Kat Zhang (ages 4-8)
Meet the funny, fierce, and fearless Amy Wu, who is determined to make a perfect bao bun today. Can she rise to the occasion?  Amy loves to make bao with her family. But it takes skill to make the bao taste and look delicious. And her bao keep coming out all wrong.  Then she has an idea that may give her a second chance; will Amy ever make the perfect bao?
---
Black Heroes of the Wild West by James Otis Smith (grades 4-6)
Celebrates the extraordinary true tales of three black historical figures in the Old West: Mary "Stagecoach" Fields, a cardplaying coach driver; Bass Reeves, the first black Deputy S Marshall west of the Mississippi; and Bob Lemmons, a cowboy famous for his ability to tame mustangs.
---
Amari and the Night Brothers by B.B. Alston (ages 8-12)
Thirteen-year-old Amari, a poor Black girl from the projects, gets an invitation from her missing brother to join the Bureau of Supernatural Affairs and join in the fight against an evil magician. Artemis Fowl meets Men in Black in this exhilarating debut middle grade fantasy, the first in a trilogy filled with #blackgirlmagic. Perfect for fans of Tristan Strong Punches a Hole in the Sky, the Percy Jackson series, and Nevermoor.
---
The Truths We Hold by Kamala Harris
The autobiographical memoir of the first woman, African American, and South Asian American to become attorney general of the State of California, and the second black woman ever elected to the United States Senate. Harris discusses the impact that her family and community had on her life, and how she came to discover her own sense of self and purpose.
---
Becoming Muhammad Ali by James Patterson and Kwame Alexander
A biographical novel written partly in verse, tells the story of Cassius Clay, the determined boy who would one day become Muhammad Ali, one of the greatest boxers of all time.
---
Ghost Boys by Jewell Parker Rhodes
After seventh-grader Jerome is shot by a white police officer, he observes the aftermath of his death and meets the ghosts of other fallen black boys including historical figure Emmett Till.
---
 Kid Activists by Robin Stevenson (Ages 9-12)
Across history, activists have worked, marched, and spoken out for equality and justice--and many had moving, relatable childhood stories. Martin Luther King Jr. argued with his dad about whether dancing was a sin. Harvey Milk had a passion for opera. Dolores Huerta was wrongly accused of plagiarizing. Kid activists tell these stories and more through engaging biographies and full-color illustrations on nearly every page.  
---
 Antiracist Baby by Ibram X. Kendi (Ages 0-4)
Illustrations and rhyming text present nine steps Antiracist Baby can take to improve equity, such as opening our eyes to all skin colors and celebrating all our differences.
---
R-E-S-P-E-C-T: Aretha Franklin, the Queen of Soul by Clare Weatherford (Ages 4-8)
Her song "Respect" was an anthem for people fighting for civil rights and women's rights. With words that sing and art that shines, this vibrant portrait of Aretha Franklin pays her the R-E-S-P-E-C-T this Queen of Soul deserves.
---
Malcolm Little: The Boy Who Grew Up To Become Malcolm X by Ilyasah Shabazz (Ages 6-10)
Malcolm X grew to be one of America's most influential figures. But first, he was a boy named Malcolm Little. Written by his daughter, this inspiring picture book biography celebrates a vision of freedom and justice.
---
Todos Iguales by Christy Hale (Ages 9-12)
This nonfiction bilingual picture book, written in both English and Spanish, tells the empowering story of The Lemon Grove Incident--a major victory in the battle against school  segregation, and a testament to the tenacity of an immigrant community and its fight for equal rights.
---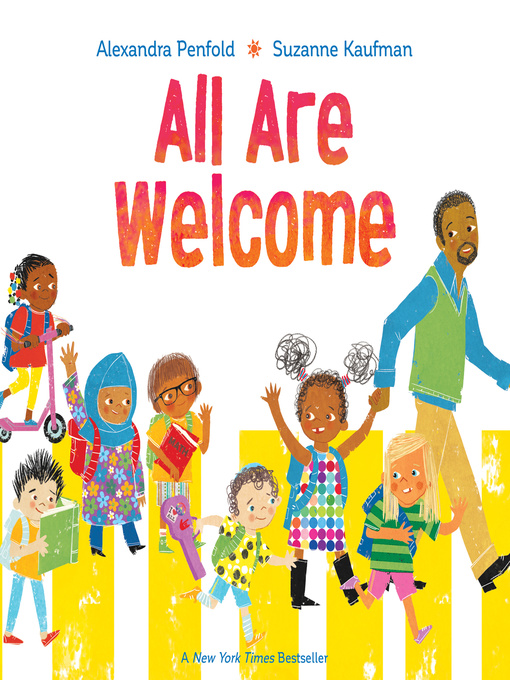 All Are Welcome by Alexandra Penfold (ages Pre-K-7)
Illustrations and simple, rhyming text introduce a school where diversity is celebrated and songs, stories, and talents are shared.
---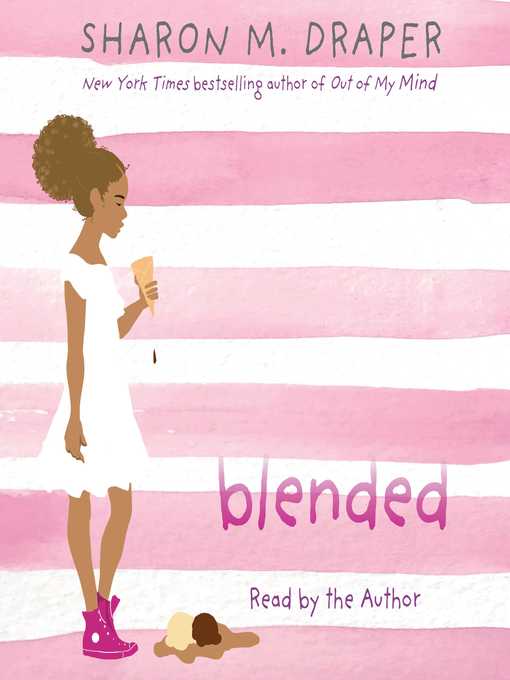 Blended by Sharon Draper (Ages 8-12)
Piano-prodigy Isabella, eleven, whose black father and white mother struggle to share custody, never feels whole, especially as racial tensions affect her school, her parents both become engaged, and she and her stepbrother are stopped by police.
Library on the Go -- E-Audiobook
---
Brown Girl Dreaming by Jacqueline Woodson (ages 4-7)
The author shares her childhood memories and reveals the first sparks that ignited her writing career in free-verse poems about growing up in the North and South.
Library on the Go -- E-Book  |  E-Audiobook
---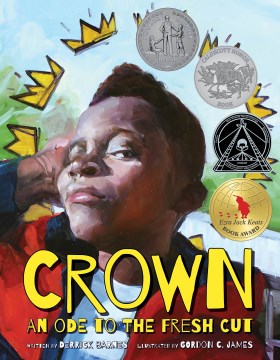 Crown: An Ode to the Fresh Cut by Derrick Barnes (Ages 5 - 8)
Celebrates the magnificent feeling that comes from walking out of a barber shop with newly-cut hair.
---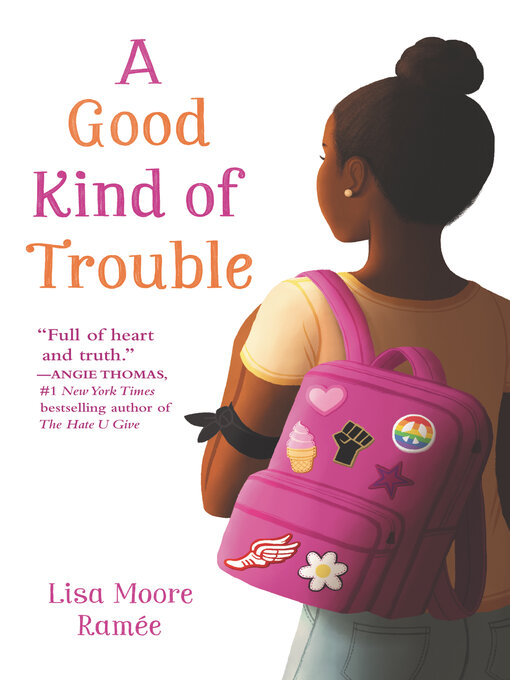 A Good Kind of Trouble by Lisa Moore Ramee (Ages 8-12)
After attending a powerful protest, Shayla starts wearing an armband to school to support the Black Lives Matter movement, but when the school gives her an ultimatum, she is forced to choose between her education and her identity.
Library on the Go -- E-Book | E-Audiobook
---
The Watsons Go to Birmingham:1963 by Christopher Paul CurtisThe ordinary interactions and everyday routines of the Watsons, an African American family living in Flint, Michigan, are drastically changed after they go to visit Grandma in Alabama in the summer of 1963.
Library on the Go -- E-Book | E-Audiobook
---
Trombone Shorty by Troy Andrews
A Grammy-nominated headliner for the New Orleans Jazz Fest describes his childhood in Tremé and how he came to be a bandleader by age six.
---
Stella By Starlight by Sharon Draper (Ages 8-12)
When a burning cross set by the Klan causes panic and fear in 1932 Bumblebee, North Carolina, fifth-grader Stella must face prejudice and find the strength to demand change in her segregated town.
Library on the Go -- E-Book | E-Audiobook
---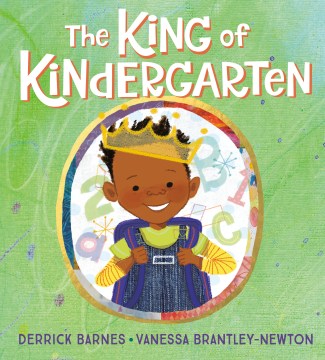 King of the Kindergarten by Derrick Barnes (ages Pre-K - 5)
A confident little boy takes pride in his first day of kindergarten, encouraging new students with a reassuring message about this exciting milestone.
---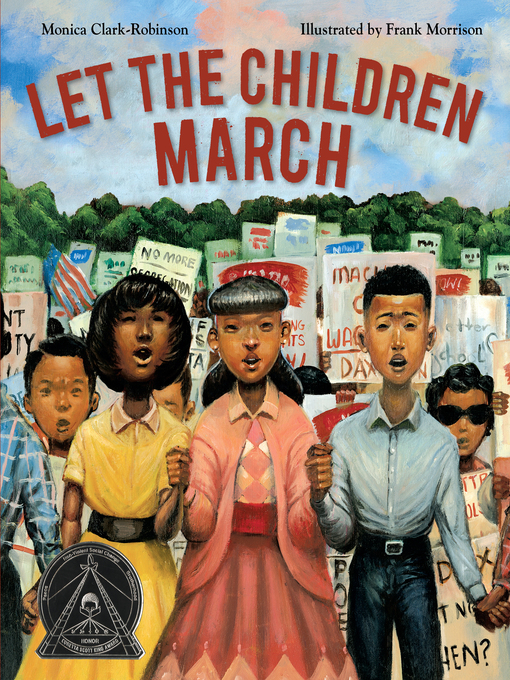 Let the Children March by Monica Clark-Robinson (Ages 6-8)
Under the leadership of Dr. Martin Luther King, children and teenagers march against segregation in Birmingham, Alabama, in 1963.

---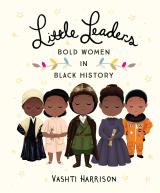 Little leaders : bold women in black history by Vashti Harrison (Ages 8-12)
 Based on her popular Instagram posts, author/illustrator Vashti Harrison shares the stories of 40 bold African American women who shaped history.
---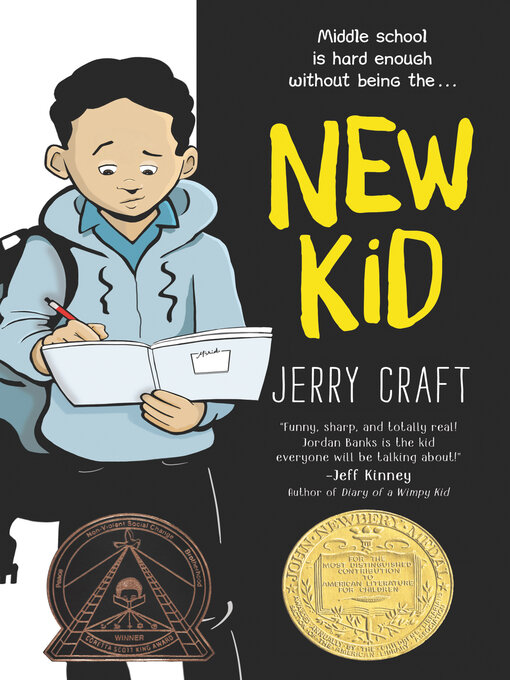 New Kid by Jerry Craft (Ages 8-12)
Graphic Novel - Seventh grader Jordan Banks loves nothing more than drawing cartoons about his life. But instead of sending him to the art school of his dreams, his parents enroll him in a prestigious private school known for its academics, where Jordan is one of the few kids of color in his entire grade.
Library on the Go -- E-Book | E-Audiobook
---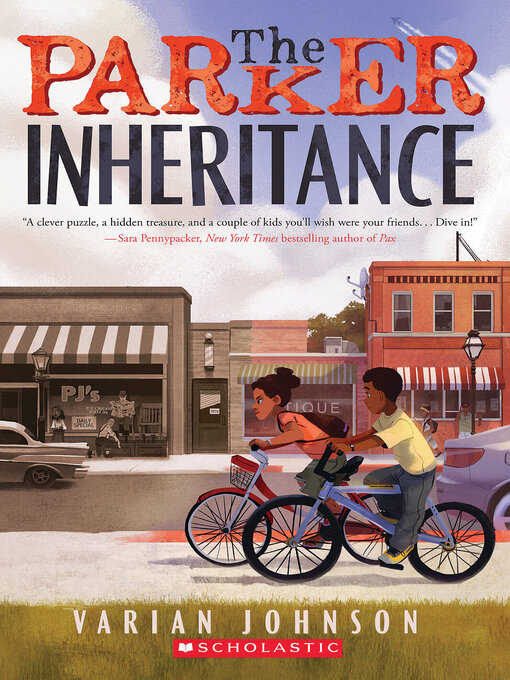 The Parker Inheritance by Varian Johnson  (Ages 8-12)
Spending the summer in Lambert, South Carolina, Candice discovers the letter that sent her grandmother on a treasure hunt, and with her new friend Brandon, sets off to expose the injustice once committed against a local African American family.
Library on the Go -- E-Book