Our Library offers free access to computers you can use to search our online resources, connect to the internet and use popular software, like Microsoft Office and Adobe Acrobat Pro. You can also use one of our printers, copiers or fax machines as well as our digitization equipment.  We have several pieces of equipment that can also be checked out for two weeks.  Come by and see all that we have to offer!
Use a Computer | WIFI | Print, Copy & Scan | Fax | Laminator | Library of Things | Memory Lab | Microfilm Reader
---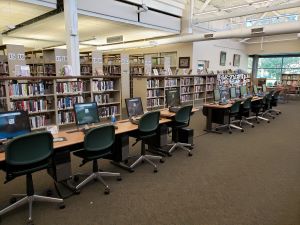 With your Library card, you can use a computer.
Computers are available on a first-come, first served basis. 
We have a limited number of headphones available to lend on a first come, first served basis.
Need access without a card? You can show valid ID to request a guest pass if you don't qualify for a free Library card.  Find out how to get a Library card.
Computer and Internet Acceptable Use Policy
---
Free Wireless Internet Access is available inside the library and extends outside reaching to the parking lot. Simply bring your wireless enabled device to the Library and turn it on. When your wireless network card senses a signal, a message appears on your screen indicating a wireless network is available. From the available wireless networks connect to LibraryOpen. Depending upon the computer, you might be prompted to automatically accept Terms of Agreement or the page might appear after you open your internet browser.  Either way, please accept the Terms of Agreement to use our wifi.  
---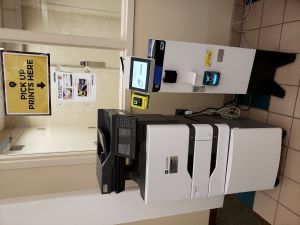 Print from anywhere & pick up your print job same day during open hours.
---
The fax machine is located at the circulation desk.  Faxes may only be sent to a fax number in the United States.
Costs
Outgoing
Toll Free and fax numbers in Sangamon County - FREE
In-state but not in Sangamon County - $1/pg
out of state - $2/pg
---
The Library has an in-house laminator. Patrons are able to laminate projects up to 11x17 for $.50/page.  Ask at the Adult Service Desk for assistance. 
---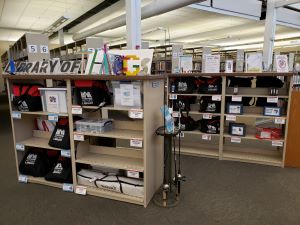 In addition to traditional items the library lends out, such as books, movies, and music, we've created a collection of various objects we lend out, too!  Some are just for fun like board games and puzzles, some are tech like hotspots and Rokus, and others are just useful. 
---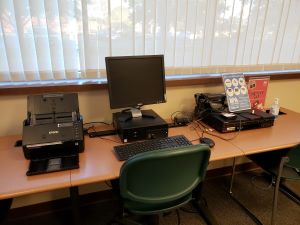 It's a place.
The Lab provides equipment for digitizing home movies as well as scanning photographs and slides. It's a do-it-yourself (DIY)  model, meaning we provide step-by-step instructions, but you control the process from start to finish. 
---
A microfilm reader/printer is located in the Opal Lee Chatham History and Genealogy Room. You can save digital images to the computer, email or USB drives. Printing from the microfilm reader costs $.15/ side for black & white copies. Newspapers and other resources on microfilm can be requested from other libraries through Interlibrary loan (ILL). All you need to do to contact the Reference Librarians at [email protected] or 217-483-2713.