Race & Social Equity Resources
Item request has been placed!
×
Item request cannot be made.
×
Processing Request

The Chatham Area Public Library believes that public libraries, as trusted institutions grounded in values including but not limited to democracy, social responsibility, and the public good, play an important role in acknowledging and addressing systemic racism and the advancement of social equity. We recognize that, as the Illinois Library Association points out, a "statement without action is empty" and that our work must be ongoing. As part of this journey, our Board of Trustees at the January 18, 2021 meeting, approved our signing onto the Urban Libraries Council Statement on Race and Social Equity whose bullet points will act as guideposts for decisions as we move forward. 
The work toward racial justice and the advancement of equity for all can start with a book, an article, a film, or an idea. We have curated the following list of resources available to you through our catalog and beyond as your exploration and action around race, justice, and equity progresses.
Adult Books
A beginner's guide to America : for the immigrant and the curious by Roya Hakakian
This book gives us a portrait of what the new immigrant experience in America is really like.
---
America is not the heart by Elaine Castillo
Three generations of women from one immigrant family trying to reconcile the home they left behind with the life they're building in America.
---
All you can ever know: a memoir by Nicole Chung 
A Korean adoptee who grew up with a white family in Oregon discusses her journey to find her identity as an Asian American woman and a writer after becoming curious about her true origins.
Library on the Go -- E-Book | E-Audiobook
---
The Calligrapher's Daughter by Eugenia Kim
In early twentieth century Korea, Najin Han, the privileged daughter of a calligrapher, longs to choose her own destiny. Smart and headstrong, she is encouraged by her mother, but her stern father is determined to maintain tradition. When her father seeks to marry Najin into an aristocratic family, her mother defies generations of obedient wives and instead sends her to serve in the king's court as a companion to a young princess.
Hoopla -- E-Book
---
Central America's forgotten history: revolution, violence, and the roots of Migration by Aviva Chomsky 
Places Central American migration to the United States in the context of the region's history of conquest, colonialism, revolution, and neoliberalism, looking especially at the revolutionary experiments of the 1980s and their aftermath.
Library on the Go -- E-Book | E-Audiobook
---
Homeland Elegies by Ayad Akhtar
Blends fact and fiction to tell an epic story of longing and dispossession in the world that 9/11 made. Part family drama, part social essay, part picaresque novel, at its heart it is the story of a father, a son, and the country they both call home.
Library on the Go -- E-Book
cloudLibrary -- E-Book
---
Interior Chinatown by Charles Yu
A stereotyped character actor stumbles into the spotlight before uncovering surprising links between his family and the secret history of Chinatown.
Library on the Go -- E-Audiobook
cloudLibrary -- E-Book | E-Audiobook
---
Love in Color by Bolu Babalola
A debut anthology reimagines cultural folk and love stories from West Africa, Greek mythology and Middle East legend, from the tale of an unappreciated Nigerian goddess to the story of a powerful Ghanaian spokeswoman's fateful decision.
Library on the Go -- E-Book
---
Minor Feelings by Cathy Park Hong
An award-winning poet and essayist offers a ruthlessly honest, emotionally charged exploration of the psychological condition of being Asian American.
Library on the Go -- E-Book
cloudLibrary -- E-Book | E-Audiobook
---
Pachinko by Min Jin Lee
In early 1900s Korea, prized daughter Sunja finds herself pregnant and alone, bringing shame on her family until a young tubercular minister offers to marry her and move with her to Japan, in the saga of one family bound together as their faith and identity are called into question.
Library on the Go -- E-Book | E-Audiobook
cloudLibrary -- E-Book | E-Audiobook
---
The three mothers: How the Mothers of Martin Luther King Jr, Malcolm X, and James Baldwin shaped a nation by Anna Malaika Tubbs 
Celebrates Black motherhood by telling the story of the three women who raised and shaped some of America's most pivotal heroes: Martin Luther King, Jr., Malcolm X, and James Baldwin.
Library on the Go -- E-Book 
cloudLibrary -- E-Book
---
The Vanishing Half by Brit Bennett
Twin sisters, inseparable as children, ultimately choose to live in two very different worlds, one black and one white.
Library on the Go -- E-Book | E-Audiobook
cloudLibrary -- E-Book | E-Audiobook
---
Looking for additional books? Click here to access the Adult Race and Justice book archive.
Teen Books
The Black Friend: On Being a Better White Person by Frederick Joseph
Frederick Joseph calls up race-related anecdotes from his past, explaining why they were hurtful and how he might handle things now. Each chapter features the voice of at least one artist or activist. Touching on everything from cultural appropriation to power dynamics, "reverse racism" to white privilege, microaggressions to the tragic results of overt racism, this book serves as conversation starter, tool kit, and invaluable window into the life of a former "token Black kid" who now presents himself as the friend many readers need.
 cloudLibrary -- E-Book
---
The Beautiful Struggle: A Memoir - Adapted for young adults by Ta-Nehisi Coates
A memoir from Ta-Nehisi Coates, in which he details the challenges on the streets and within one's family, especially the eternal struggle for peace between a father and son and the important role family plays in such circumstances.
---
The Gilded Ones by Namina Forna
The start of a bold and immersive West African-inspired, feminist fantasy series for fans of Children of Blood and Bone and Black Panther. During a ceremony to determine if she can join the village, sixteen-year-old Deka's blood runs gold, the color of impurity -- and Deka knows she will face a consequence worse than death. Then a mysterious woman comes to her with a choice: stay in the village and submit to her fate, or leave to fight for the emperor in an army of girls just like her. They are called alaki -- near-immortals with rare gifts. And they are the only ones who can stop the empire's greatest threat.
cloudLibrary -- E-Book | E-Audiobook
---
Into the Streets: A Young Person's Visual History of Protest in the United States by Marke Bieschke
Prominently featured photos, artwork, and other visual elements will guide young adult readers through this lively, informative exploration of significant protests, sit-ins, and collective acts of resistance throughout US history.
---
Almost American Girl: An Illustrated Memoir by Robin Ha
Moving abruptly from Seoul to Alabama, Robin, a Korean teen, struggles in a hostile blended home and a new school where she does not speak English before forging unexpected connections in a local comic drawing class.
---
We Are Not From Here by Jenny Torres Sanchez
Even with the love of family, threats lurk around every corner for Pulga, Chico, and Pequeña. And when those threats become all too real, the trio knows they have no choice but to run: from their country, from  their families, from their beloved home. Crossing from Guatemala through Mexico, they follow the route of La Bestia, the perilous train system that might deliver them to a better life -- if they are lucky enough to survive the  journey.
 hoopla -- E-Audiobook 
 cloudLibrary -- E-Book
---
The Black Kids by Christina Hammonds Reed
 Perfect for fans of The Hate U Give, this unforgettable coming-of-age debut novel explores issues of race, class, and violence through the eyes of a wealthy black teenager whose family gets caught in the vortex of the     1992 Rodney King Riots.
---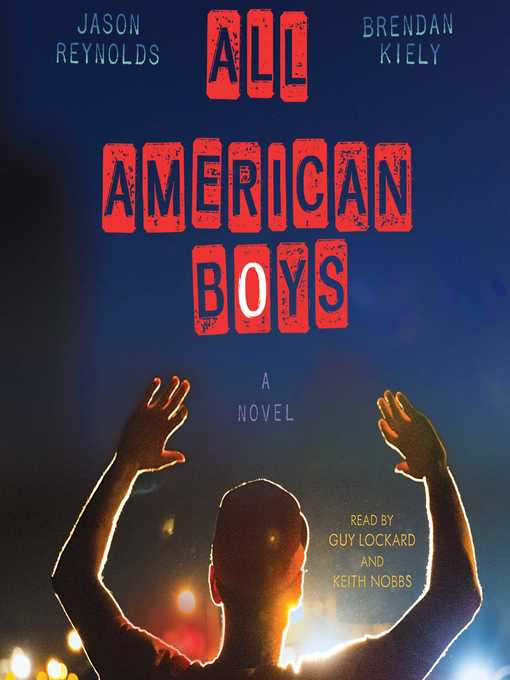 All American Boys by Jason Reynolds
When sixteen-year-old Rashad is mistakenly accused of stealing, classmate Quinn witnesses his brutal beating at the hands of a police officer who happens to be the older brother of his best friend. Told through Rashad and Quinn's alternating viewpoints.
Library on the Go -- E-Audiobook 
cloudLibrary -- E-Audiobook
---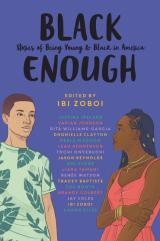 Black Enough: Stories of Being Young and Black in America Edited by Ibi Zoboi
Black Enough is an essential collection of captivating stories about what it's like to be young and Black in America.
cloudLibrary -- E-Book | E-Audiobook
---
Dark Sky Rising: Reconstruction and the Dawn of Jim Crow by Henry Louis Gates, Jr.
Henry Louis Gates, Jr. presents a journey through America's past and our nation's attempts at renewal in this look at the Civil War's conclusion, Reconstruction, and the rise of Jim Crow segregation.
cloudLibrary -- E-Audiobook
---
Dear Martin by Nic Stone
Writing letters to the late Dr. Martin Luther King Jr., seventeen-year-old college-bound Justyce McAllister struggles to face the reality of race relations today and how they are shaping him.
Library on the Go -- E-Book | E-Audiobook 
cloudLibrary -- E-Book  | E-Audiobook
---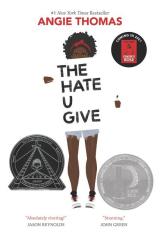 The Hate U Give by Angie Thomas
Large Print | Book on CD | DVD
After witnessing her friend's death at the hands of a police officer, Starr Carter's life is complicated when the police and a local drug lord try to intimidate her in an effort to learn what happened the night Kahlil died.
Library on the Go -- E-Book | E-Audiobook 
cloudLibrary -- E-Book  | E-Audiobook
---
Looking for additional books? Click here to access the Young Adult Race and Justice Book Archive.
Juvenile Books
Amy Wu and the Perfect Bao by Kat Zhang (ages 4-8)
Meet the funny, fierce, and fearless Amy Wu, who is determined to make a perfect bao bun today. Can she rise to the occasion?  Amy loves to make bao with her family. But it takes skill to make the bao taste and look delicious. And her bao keep coming out all wrong.  Then she has an idea that may give her a second chance; will Amy ever make the perfect bao?
---
Black Heroes of the Wild West by James Otis Smith (grades 4-6)
Celebrates the extraordinary true tales of three black historical figures in the Old West: Mary "Stagecoach" Fields, a cardplaying coach driver; Bass Reeves, the first black Deputy S Marshall west of the Mississippi; and Bob Lemmons, a cowboy famous for his ability to tame mustangs.
---
Amari and the Night Brothers by B.B. Alston (ages 8-12)
Thirteen-year-old Amari, a poor Black girl from the projects, gets an invitation from her missing brother to join the Bureau of Supernatural Affairs and join in the fight against an evil magician. Artemis Fowl meets Men in Black in this exhilarating debut middle grade fantasy, the first in a trilogy filled with #blackgirlmagic. Perfect for fans of Tristan Strong Punches a Hole in the Sky, the Percy Jackson series, and Nevermoor.
cloudLibrary -- E-Book  | E-Audiobook
---
The Truths We Hold by Kamala Harris
The autobiographical memoir of the first woman, African American, and South Asian American to become attorney general of the State of California, and the second black woman ever elected to the United States Senate. Harris discusses the impact that her family and community had on her life, and how she came to discover her own sense of self and purpose.
---
Becoming Muhammad Ali by James Patterson and Kwame Alexander
A biographical novel written partly in verse, tells the story of Cassius Clay, the determined boy who would one day become Muhammad Ali, one of the greatest boxers of all time.
cloudLibrary -- E-Book  | E-Audiobook
---
Ghost Boys by Jewell Parker Rhodes
After seventh-grader Jerome is shot by a white police officer, he observes the aftermath of his death and meets the ghosts of other fallen black boys including historical figure Emmett Till.
---
R-E-S-P-E-C-T: Aretha Franklin, the Queen of Soul by Clare Weatherford (Ages 4-8)
Her song "Respect" was an anthem for people fighting for civil rights and women's rights. With words that sing and art that shines, this vibrant portrait of Aretha Franklin pays her the R-E-S-P-E-C-T this Queen of Soul deserves.
---
Antiracist Baby by Ibram X. Kendi (Ages 0-4)
Illustrations and rhyming text present nine steps Antiracist Baby can take to improve equity, such as opening our eyes to all skin colors and celebrating all our differences.
---
Kid Activists by Robin Stevenson (Ages 9-12)
Across history, activists have worked, marched, and spoken out for equality and justice--and many had moving, relatable childhood stories. Martin Luther King Jr. argued with his dad about whether dancing was a sin. Harvey Milk had a passion for opera. Dolores Huerta was wrongly accused of plagiarizing. Kid activists tell these stories and more through engaging biographies and full-color illustrations on nearly every page.  
---
Malcolm Little: The Boy Who Grew Up To Become Malcolm X by Ilyasah Shabazz (Ages 6-10)
Malcolm X grew to be one of America's most influential figures. But first, he was a boy named Malcolm Little. Written by his daughter, this inspiring picture book biography celebrates a vision of freedom and justice.
---
Todos Iguales by Christy Hale (Ages 9-12)
This nonfiction bilingual picture book, written in both English and Spanish, tells the empowering story of The Lemon Grove Incident--a major victory in the battle against school  segregation, and a testament to the tenacity of an immigrant community and its fight for equal rights.
---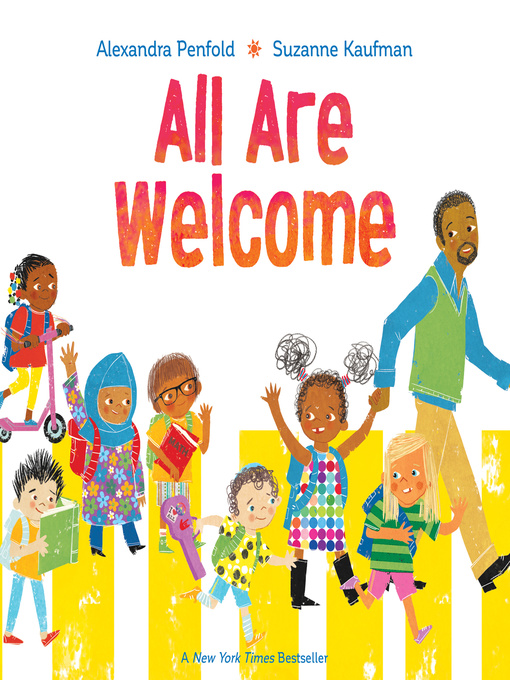 All Are Welcome by Alexandra Penfold (ages Pre-K-7)
Illustrations and simple, rhyming text introduce a school where diversity is celebrated and songs, stories, and talents are shared.
---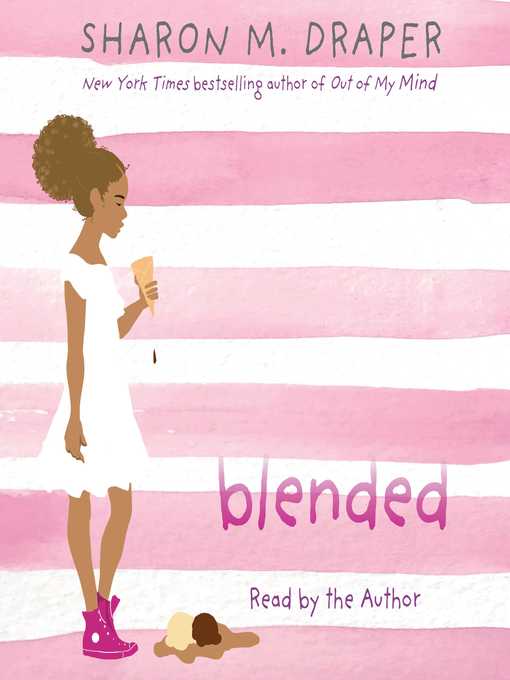 Blended by Sharon Draper (Ages 8-12)
Piano-prodigy Isabella, eleven, whose black father and white mother struggle to share custody, never feels whole, especially as racial tensions affect her school, her parents both become engaged, and she and her stepbrother are stopped by police.
Library on the Go -- E-Audiobook
---
Brown Girl Dreaming by Jacqueline Woodson (ages 4-7)
The author shares her childhood memories and reveals the first sparks that ignited her writing career in free-verse poems about growing up in the North and South.
Library on the Go -- E-Book  |  E-Audiobook
cloudLibrary -- E-Book  | E-Audiobook
---
Looking for additional books? Click here to access the Juvenile Race and Justice Book archive.