Directory of Sangamon County Resources
Community Resources

Including child care, tax assistance programs, housing, healthcare, and more.

Senior Resources

Including caregiver assistance, disability services, rental assistance, and more.

Food Resources

Directory of food assistance programs for Sangamon County.
Village & School Resources
Village of Chatham
Ball-Chatham School District
Little Free Micro Pantry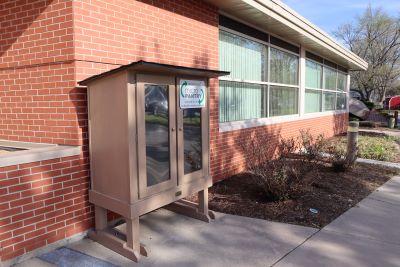 The Chatham Area Public Library is happy to announce our latest project, with collaboration from the Sugar Creek United Methodist Church: a Little Free Micro Pantry. 
​Little Free Micro Pantries are based on the Little Free Library concept, which provides the opportunity for neighbors to help neighbors.  According to the Feeding America's Map the Meal Gap Study, 11.2% of Sangamon County residents are facing food insecurity, which is the state of being without reliable access to a sufficient quantity of food. Food insecurity can affect anyone including children, older adults, people with disabilities, the working poor, and veterans. The data from that report was from 2019, and the pandemic has created more hardships for members of our community.
​Who is the Little Free Micro Pantry for?
It's for anyone who needs help with food. We will not be monitoring who takes from or who gives to the Food Pantry. If you have something to give, please do. If you need something, please take it.
What can go in the Little Free Micro Pantry?
We hope it will be stocked with food and things people need like non-perishable food items and toiletry items, such as canned goods (pop tops are best), proteins, personal care items, etc. We are not collecting razors, chemicals, clothing, homemade items, or unsealed, expired or opened food.
​How is the Little Free Micro Pantry stocked?
The pantry will be stocked organically. To start it off, members of the Sugar Creek United Methodist Church donated food and other things. We are hoping community members will continue to give and help us keep it full of useful items.
Items in high demand:
Peanut Butter & Jelly (plastic jars)
Crackers
Ramen Noodles in the Cup
Canned Ravioli & Soups
Cereal
Other suggested items:
Canned or Plastic Containers of Fruits
Box Meals (Rice, Mac n cheese, hamburger helper etc.)
Canned Vegetables (Corn & Green Beans are always a HIT)
Chewy Granola Bars
Oatmeal Packets
Diapers
Baby Food & Formula 
Toiletries - Shampoo, Conditioner, Deodorant, Toothbrushes & Toothpaste, Shaving Kits, Feminine Products, etc
How does the Little Free Micro Pantry differ from other food pantries?
The Little Free Pantry is small, so it cannot be relied on to help with pervasive need. The Little Free Food Pantry does not have hours, require applications, or need of financial proof of need, and is available to anyone at anytime. For those who are needing additional help, please reach out to the Ball-Chatham Food Pantry.
​Is this the only food pantry in the area?
No. Along with the Ball-Chatham Food Pantry, there are other food resources in our community:
Chatham-Auburn Memorial VFW Post 4763
Who built this Little Free Micro Pantry?
Members of the Sugar Creek United Methodist Church organized, built and supplied this pantry for the members of our community. on the Library's property.  The Library values our community partners.
​Have questions or want more info? Contact the Church at 217-483-2270.