What are Caring for the Caregiver Kits?
The caregiver kits include materials that help the caregiver understand and manage their own stress such as through meditation, journal prompts, and a yoga for beginners DVD. In addition, the kits have materials to help caregivers learn to cope with taking care of their loved one such as a book with activities to use with a dementia patient. The second component includes materials to help the caregiver understand and learn how to interact with their loved one more effectively and beneficially.
Kits are checked out for six (6) weeks and may only be renewed once.
The goal of these kits is to improve the health and emotional literacy of caregivers along with helping them with activities that they can do together.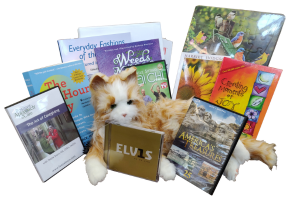 Companion Cat Kit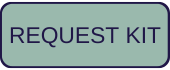 INCLUDED IN THE KIT
Books
The 36-hour day / Nancy L. Mace, MA, Peter V. Rabins, MD, MPH
Creating moments of joy along the Alzheimer's journey / Jolene Brackey
Affirmations for family caregivers / Harriet Hodgson
Weeds in Nana's garden / written and illustrated by Kathryn Harrison
Everyday fashions of the Fifties as pictured in Sears catalogs / edited and with an introduction by Joanne Olian
Audio disc
DVDs
America's treasures
Sitting tai chi
The art of caregiving
Joy For All Companion Cat
36 piece puzzle
FUNDED BY GRANT FROM THE ROTARY CLUB OF SPRINGFIELD - CHATHAM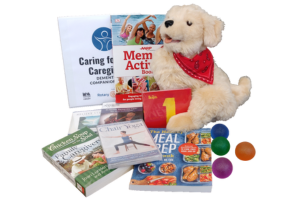 Companion Dog Kit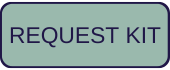 INCLUDED IN THE KIT
Books
Chicken Soup for the Soul: Family Caregivers / Joan Lunden
The Healthy Meal Prep Cookbook / Toby Amidor
AARP Memory Activity Book / Helen Lambert
Audio disc 
Guided Meditations to Relieve Stress
The Beatles # 1
DVDs
In-Home Dementia Care: Tips & Techniques. Positive Approach to Care
Chair Yoga
Hand Therapy Ball Kit
Joy For All Companion Dog
FUNDED BY GRANT FROM THE ROTARY CLUB OF SPRINGFIELD - CHATHAM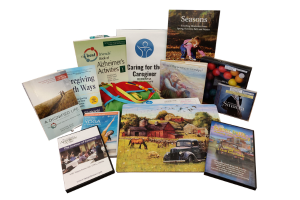 Fidget Muff Kit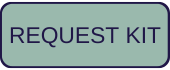 INCLUDED IN THE KIT
Books
A dignified life / Virginia Bell and David Troxel
Caregiving both ways : a guide to balancing it all while caring for a loved one with dementia / Molly Wisniewski
What's happening to Grandpa? / by Maria Shriver ; illustrated by Sandra Speidel
The Best Friends book of Alzheimer's activities / Virginia Bell, M.S.W. [and three others]
Seasons : touching memories from spring, summer, fall, and winter : an interactive book for memory-impaired adults / Matthew Schneider, Deborah Drapac, BSN, RN
Audio disc
 DVDs
Sunday drive : a calming visual experience
The journey of dementia
Rodney Yee's complete yoga for beginners
Fidget Muff
36 piece puzzle
Playable Art Balls
FUNDED BY GRANT FROM THE ROTARY CLUB OF SPRINGFIELD - CHATHAM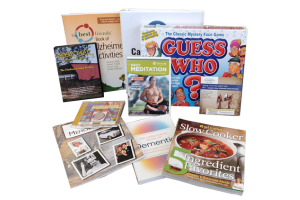 Memory Activities Kit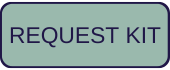 INCLUDED IN THE KIT
Books
The Caregiver's Guide to Dementia / Gail Weatherill
The Best Friends Book of Alzheimer's Activities / Virginia Bell
1950s Memory Lane / Hugh Morrison
Get Crocked Slow Cooker 5 Ingredient Favorites / Jenn Bare
Audio disc
 DVDs
Daily Meditation
Teepa Snow's Seeing it From the Other Side
Guess Who? The Classic Mystery Face Game
FUNDED BY GRANT FROM THE ROTARY CLUB OF SPRINGFIELD - CHATHAM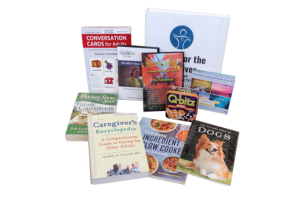 Reminiscing Activities Kit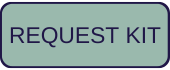 INCLUDED IN THE KIT
Books
Chicken Soup for the Soul: Family Caregivers / Joan Lunden
The Picture Book of Dogs.
The Easy 5-Ingredient Slow Cooker Cookbook / Karen Peterson
The Caregiver's Encyclopedia / Muriel Gillick
Audio disc
The Rest & Relaxation 4 CD Set
 DVDs
Sunday Drive 10: The Arboretum
Teepa Snow's It's All In Your Approach
Q-Bitz Solo Wooden Block Game
Conversation Cards for Adults
FUNDED BY GRANT FROM THE ROTARY CLUB OF SPRINGFIELD - CHATHAM