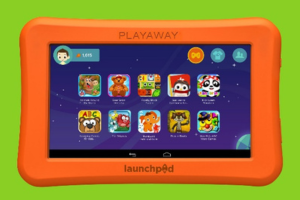 Playaway Launchpads
Playaway Launchpads, early educational devices, are preloaded with apps, games and books for children ages 3–10+. Launchpads are ad-free, do not require a Wi-Fi connection, and are 100% safe to use. 
Launchpads are a great tool to work with your little one's early literacy skills! Explore topics like Math, Language Arts, Critical Thinking, and Creativity in engaging and fun ways. To get the most out of this tool, remember to interact with your child while they use the tablet by asking questions and talking to them about the games they are playing.  Check out all the Launchpad early learning tablets available from the Library by browsing our catalog. 
To start your learning adventure, request a tablet for hold through our catalog using your library card, available for pickup in the Children's area near the DVDs! 
Ages 3-5
All about it! Critical Thinking
Numbers & letters with Sesame Street
Ages 5-7
How'd they build that?
Big Minds! STEAM
Monster Word Mash!
Make! Bake! Create!
Ages 8-10
Smithsonian: all things animal!
In the think tank!
Smithsonian: dino planet
Ages 10+